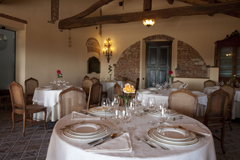 At Palazzo Paleologi you must not miss the restaurant with the typical cuisine of Monferrato. The ancient rooms of the historic dwelling of Lu accommodate the arts of good cooking and hospitality. On the menu of the Antico Monastero restaurant, only typical traditional recipes of Grandmother Maria presented in an innovative manner. The ingredients are changed  strictly according to the seasons and come from Luson soil. The wines are those that originate in Monferrato, products from local growers. The framework is the historic authenticity of Palazzo Paleologi, against a background of the enchanting panorama of the hills of Monferrato.
The Antico Monastero restaurant also offers the experience of the Paleologi Marquis menu, with dishes and flavours that descend from the medieval traditions of the noble family.
Expertise, balance, welcome, service, distinguish the Antico Monastero from among restaurants with typical Monferrato cuisine.