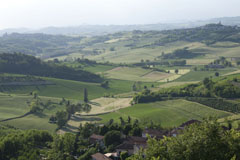 The historical residence Palazzo Paleologi is found at Lu Monferrato, village of ancient origins, also called Porta del Monferrato [Gateway of Monferrato] because of its prime position at the inception of that territory, known world-wide for its pleasant mountains, Sabaudian castles, prestigious wines and culinary delights.
An hour by car from Milan, from Turin and from Genoa and a half-hour from Alessandria, Casale and Valenza, Lu is the destination for those who desire to experience a vacation or a weekend with hallmarks of the good life, surrounded by nature, traditions and authentic flavours.
All around Lu, hills of vineyards and sunflowers; one-time stronghold of the Paleologi (in the 13th century), the Lords of Monferrato, the same who lived at Palazzo Paleologi, redesigned today as a distinctive and welcoming residence of vacation apartments with many services similar to a hotel. The center of Lu, close to the historic residence Palazzo Paleologi, is not lacking in markets, stores, restaurants and services such as a bank and post office.
The atmosphere and rhythm of Lu and Palazzo Paleologi are absolutely Slow Living: calm and silence, tranquility and comfort, where inhabitants of the town live their lives, in an authentic ambiance uncontaminated by mass tourism, ideal for those who wish to rediscover the true Italian life and also for a few days to feel at one with the environment.
During a stay in Lu Monferrato there are countless opportunities to taste the regional specialties of Piedmont in the town festivals of Langhe and Monferrato, such as risotto in Sessame, peppers in Castiglione d'Asti, agnolotto in Santa Caterina. Alba on the other hand is the realm of the rarest truffle honored at the annual Fair, highly attended international event.
Those who love antiques should not miss the markets of Nizza Monferrato (every third Sunday of the month), of Asti (every fourth Sunday) , of Canelli (every third Sunday) and of Casale Monferrato every second Sunday of the month. In near-by Vignale, in August is held the Festival of the Dance. In Lu, in May, the events are Rice and Roses and the Vespa Convention, in August the Festival of Grapes.
From May to October, the Open Castles event allows visiting of ancient castles and historical dwellings in Piedmont around Lu, between Langhe and Monferrato.